BIOFIX GRORICH-G is an herbal-based granular form plant growth stimulant blended with botanical extracts,
It is a optimum combination of naturally occurring protein-rich material.
It helps to keep food balanced and regulate the stomatal opening in plants, which increases the overall growth of crops.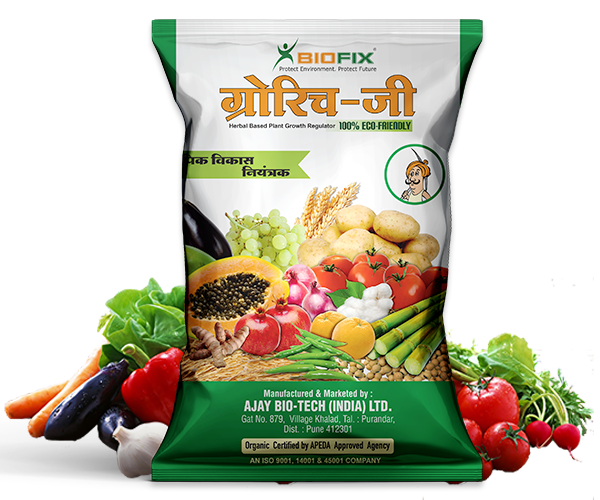 Benefits
• It helps to lower the flower drop, increases fruit setting and increases the size of fruits
• It is essential for all stages of plant growth because it helps in seed germination, biomass development, vegetative growth, balancing C/N ratio, reproductive stage & maturity.
• Proteins in the form of amino acids help in cell growth.
• Enzymes help to breakdown complex molecules into simple form which can be easily utilized by the plants
Dosage:
Soil Application: Mix 10 to 15 Kg Grorich-G per acre with any organic manure,
compost or other granular fertilizers and broadcast in the field.
Recommended Crops:
Sugarcane, Grapes, Paddy, Tomato, Potato, Barley, Pomegranate, Strawberry,
Citrus, Banana, Groundnut, Wheat, Cotton, Soybean and other crops.